Event Details
Select a media type above to begin uploading photos and videos
HOPE FOR THE DAY'S THIRD ANNUAL HUMBOLDT MILE
Presented by Dark Matter Coffee and 3Run2 Running Club! 
The Humboldt Mile is a USATF certified, chip-timed one mile race that will take place on Saturday, June 2, 2018 in Humboldt Park. This event celebrates mental health month(may) with 100% of the proceeds benefiting Hope For The Day's Proactive Suicide Prevention programs.
The first 800 registrants receives the 3rd Annual Humbolt Mile Nike Race Day shirt!
Race Details 
Event Date: June 2, 2018
Starting Location: 1400 N. Humboldt Blvd, Chicago IL [Where Humboldt Blvd & North Ave meet] (See site map below)
Bag Check Opens: 9:30 AM
Wave Schedule 
11:00 AM --11:15 AM: Wave 1 Step off with fifteen-minute spaces between each following wave release. 
Race Order: Participants will seed themselves with self-identified running ability or desire on the registration form. All levels of physical ability, families, children and pets are welcome to participate and join the fun.  
Wave 1 Race(Hard effort)
 
Wave 2 Run (Moderate effort)
 
Wave 3 Jog/Walk(Relaxed effort)
Packet Pickup Information 
Nike Running Club Pickup:
When: May 26th, 2018 || 11:00 AM - 3:00 PM
Where: Nike Running Bucktown || 1640 N Damen Ave, Chicago, IL 60647

Sip of Hope Pickup: 
When: May 27th, 2018 11:00 AM - 4:00 PM
May 29th & 31st, 2018 4:00 PM - 8:00 PM
Where: Sip of Hope Coffee Bar || 3039 W Fullerton, Chicago, IL 60647
Course Route & Site Map
The Humboldt Mile is a USTAF certified one mile course, boasting a half mile straight away southbound down the center of Humboldt Boulevard (street closure) as it traverses the scenic heart of Humboldt Park. Post-race festivities include food, refreshments, and music.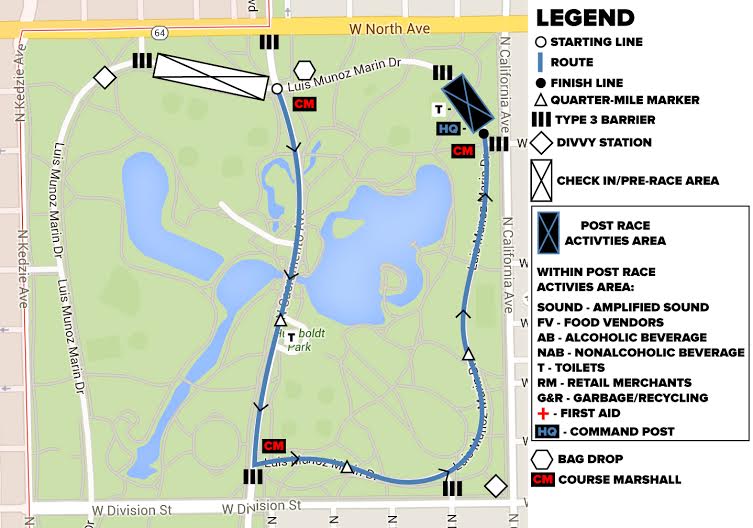 FAQs
1. What is included with my registration?
The first 800 registrants receive a high performance Nike Race Day shirt
2. Who can I contact with any questions?
Send all inquiries to: Events@hftd.org
3. Is The Humboldt Mile Run chip-timed?
The Humboldt Mile is chip-timed on a USATF certified one mile course. 
4. Do I have to wear the shirt provided?
We encourage you to wear the event shirt but you are free to dress/express yourself anyway you choose. 
5. Can children participate?
a) If they want to be timed, receive an event shirt they must register as a participant. 
b) If they simply wish to participate they are free with any registered adult. 
6. Are pets allowed at the event?
Yes, pets are welcomed at the event. They can join the walking group on the course, which will be seeded last. (a) They should be leashed & (b) Bring bags to clean up any defecation.   
7. Can I get there via public transportation?
Yes. The event check-in is at 1400 N Humboldt Blvd, Chicago, IL 60647
http://www.transitchicago.com/
8. Do I need to bring cash or credit cards?
There will be free water, and an opportunity to obtain other beverages by donation, cash and credit cards will be accepted. There will be food trucks as well. 
9. What do I need at check in?
A printed or digital copy of your registration.
10. Do I need my ID?
It can help locate your registration in the event you do not bring a physical copy. 
11. How will runners be seeded?
Runners will be seeded according to their declared ability in the registration form. 
12. Are spectators welcome?
Yes, spectators are encouraged to come out and support along the course. Ideal locations are along Humboldt Blvd straighaway at the start or the finish line.  
13. Will there be parking?
There is public parking available within the park and on city streets where available. 
Will weather affect the event?
We intend to have a safe event for all. If the weather proves to be dangerous to participants it is at the full discretion of the event directors in conjunction with the City of Chicago and Chicago Park District officials to determine if the event must be cancelled due to adverse weather conditions. THERE IS NO MAKEUP DATE OR REFUNDS IN THE EVENT OF A CANCELLATION.
-->The Starting line is at North & Humboldt Blvd
-->We STRONGLY encourage the use of public transportation as parking will be limited to public streets.
-->Ride shares like Lyft or Uber: This address will put you right at the starting area race: 1526 N Humboldt Blvd, Chicago IL 60647
-->Bus Route: 72 Bus will drop you right at the starting line--[North &Humboldt Blvd Stop]
-->*Refer to CTA website for other routes: CTA Website 
-->DIVY: There are 2 Divvy stations inside the park. (Refer to event map below)
-->By Car: Parking will be available along North Avenue (pay box!), California, and Kedzie. Plus the west side of Louis Munoz Drive is accessible from Division. (Refer to event map below). 
-->This address will put you right at the starting area race: 1526 N Humboldt Blvd, Chicago IL 60647